初めて、Iftar buffet に行ってきました。
行ったことのない所に行ってみたいと思い、
『Four Seasons Golf Club Dubai Festival City』のIftar buffet へ。
夕方6時から8時までの2時間のBuffetです。
ちょうど、夕陽が沈む時間でした。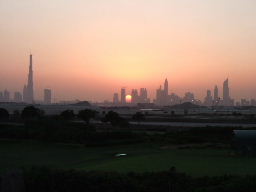 テラス席も素敵です。
外ではシーシャが楽しめるようになってました。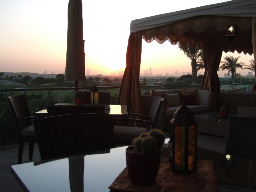 室内もとっても素敵な雰囲気です。
写真にはありませんが、とってもシックです。
食事もデザートも美味しかったです。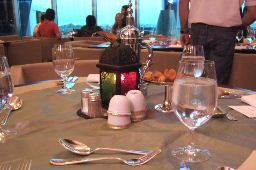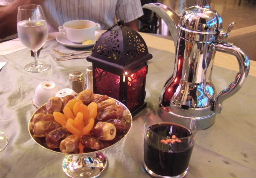 このような雰囲気でアラブの文化を味わうことも
素敵かもしれませんね。
スタッフ P
以下、Time Out からの抜粋です。
Iftar buffet の情報の参考に。
Burj Al Arab
(04 301 7777)
The Burj Al Arab's Al Falak Ballroom is available for hire for Iftar dining for up to 160 people, priced Dhs425 per person. Al Iwan, the highest atrium in the world, will be laying on an extravagant buffet for Dhs375.
Al Bustan Rotana Hotel
(04 282 0000)
Al Bustan's buffet will feature traditional Arabic dishes for Dhs119 per person.
Century Village
(04 282 4122)
The 12 outlets will be open in the evenings as usual but with Iftar add-ons to some of the menus. There's also a competition to win a Peugeot 206.
Crowne Plaza Dubai
(04 305 4444)
Break fast at the hotel's Majilis tents for Dhs130 from 5.30pm to 3am. There'll also be oud music, a henna artist and a traditional Arabian art exhibition. For every guest that dines at Iftar, the hotel will donate Dhs20 to Manzil, a Dubai school for children with special needs.
Dusit Dubai
(04 343 3333)
Enjoy Iftar at the Al Wasl Ballroom from sundown to 9pm for Dhs129. Alternatively, you can sample Moroccan sweets and tea in the lobby for Dhs19.
Emirates Towers
(04 319 8088)
Al Nafoorah, Jumeirah Emirates Towers' Lebanese restaurant, has a buffet from sundown to 7.30pm, and the restaurant is open for à la carte dining until midnight. There will also be an Iftar buffet at Mosaico restaurant.
The Fairmont Hotel
(04 332 5555)
The Fairmont's Cascades restaurant hosts an extensive buffet from sunset to 8pm, priced Dhs160.
Four Seasons Golf Club Dubai Festival City
(04 601 0101)
Iftar will be served daily from sunset in The Tee Lounge, Blades restaurant and The Golf Club's Shaheen function room for Dhs120.
Grand Hyatt Dubai
(04 317 2222)
A Ramadan tent on the lawn will be open daily from 8pm to 3am with an á la carte menu, shisha and music from Mohammad Abdo.
Al Ghurair City
(04 225 2222)
Take a break from shopping to sample some dates in the mall's Majlis from 7pm onwards throughout Ramadan. At weekends there will be a traditional Arabic storyteller at 7pm. Entrance is free.
Habtoor Grand Resort & Spa
(04 399 5000)
You'll find Arabian dishes at Al Dhiyafa Restaurant for Dhs150. Alternatively, try the Iftar buffet and shisha pipes on the beach at the hotel's Al Najj Ramadan Tent.
Hilton Dubai Jumeirah
(04 399 1111)
The self-proclaimed 'loveliest tent in the city' hosts an extensive Sahour menu, and an Iftar buffet featuring local Lebanese and Egyptian dishes. Priced Dhs85, live music and shisha follows from 10.30pm every evening.
Hyatt Regency, Deira
(04 209 1234)
Hyatt Regency's Shahrzad has a private dining room for a minimum of 40 people. Al Darwaar hosts an Iftar buffet from sunset to 8pm, priced Dhs120 per person.
Jebel Ali Golf Resort and Spa
(04 883 6000)
Experience a full Ramadan á la carte menu at the hotel's Plantation Terrace tent.
Jumeirah Beach Hotel
(04 348 0000)
Dine in Diwan Al Khayal, a large souk-styled majilis tent and an Iftar buffet, priced Dhs155 from sundown to 8.30pm. Latitude restaurant also hosts a buffet priced Dhs165, and Sohour is available in Diwan Al Khayal from 8.30pm until 2.30am.
Kempinski Hotel
(04 409 5999)
Sezzam restaurant will host a buffet every evening during Ramadan priced Dhs138 including soft drinks.
Madinat Jumeirah
(04 366 8888)
Al Muna restaurant offers Iftar. The Arboretum will have shisha, Arabic music and an additional snack menu. Both buffets cost Dhs160.
Media City
(04 364 231)
Business types can break the fast at The Living Room, a Ramadan marquee serving Arabic and Continental buffets for Iftar and Suhour, as well as an á la carte menu from 5pm to 3am. Mahmoud Al Khayyat sings and there's shisha, flavoured teas, Arabic sweets, beanbags and private areas for corporate groups. Entertainment includes board games, cards, pool tables, tennis and table football. Guests can also plug into PlayStations or watch TV.
Le Meridien Dubai
(04 217 0000)
Dias will be taking on an Arabic feel for the month with an Iftar buffet, albeit one with authentic Greek cuisine. Open until 2am, the restaurant offers options of snack and full set menus priced at Dhs135 and Dhs230 respectively, inclusive of welcome drinks. Finish off with flavoured shisha to complete the Ramadan vibe.
Metropolitan Palace, Deira
(04 227 0000)
Al Shindagah has a lavish buffet every evening priced Dhs110.
Metropolitan Hotel Dubai, Sheikh Zayed Road
(04 407 6813/407 6652)
Catch the buffet from sunset until 9pm, priced Dhs89/Dhs45 for children. An a la carte menu follows along with live baking, games and shisha flavours till the early hours.
Metropolitan Deira
(04 295 9171)
Riqa coffee shop has an Iftar buffet, priced Dhs89 per person
Mövenpick Hotel
(04 336 6000)
Middle Eastern dishes from all over the region are available in the Layali tent for Dhs95. There will be a separate area to keep children occupied.
Al Murooj Rotana
(04321 1111)
An Iftar buffet will be served in Pergolas restaurant, priced Dhs129. Private receptions can also be arranged in Al Yasat Ballroom for a minimum of 50 people.
Oasis Beach Hotel
(04 399 4444)
Iftar buffet costs Dhs70 at Bazaar.
One&Only Royal Mirage
(04 399 9999)
The Mirage will host two Ramadan cafés – The Palace Courtyard and the Arabian Court's Al Koufa. In addition, there are buffets at Tagine Restaurant at The Palace, and the Arabian Court's Rotisserie for Dhs140 per person.
Park Hyatt Dubai
(04 317 2222)
'Nights by the Marina', an air-conditioned terrace offers a full Ramadan menu, shisha and Arabic lounge-style music from 8pm to 3am. There will be Ramadan menus on offer at The Terrace, Thai Kitchen and Traiteur balconies and an Iftar buffet in Café Arabesque priced Dhs145 or Dhs75 for children.
Radisson SAS Dubai Deira Creek
(04 366 9111)
Boulvar and Shabestan host buffets, both of which are priced at Dhs110. For something different, try their Iftar Ramadan cruise – only available for private group bookings.
Radisson SAS Media City
(04 366 9111)
Iftar will be served from sundown until 8.30pm, priced Dhs90.
Renaissance Hotel
(04 262555)
Sails hosts a buffet priced Dhs99 from 6pm-8pm, followed by á la carte specials. The Aquarium Lounge will be stocked with traditional Arabic sweets and the poolside tent is also open every evening from 8:00pm till 1:00am with shisha and Oriental music.
The Ritz-Carlton
(04 399 4000)
Time Out's favourite Ramadan venue last year is back to try and set the standard once again. The air-conditioned tent overlooking the beach offers Arabic cuisine, board games, shisha, VIP areas and Arabic music from 9pm to midnight. The evening kicks off with an Iftar buffet from 8pm costing Dhs180 per person.
Sahary Terrace
(04 353 5660)
The Bastakiya venue has a traditional Arabic buffet costing Dhs195 for a minimum booking of 10 people. This includes a presentation about Ramadan, calligraphy workshops and the chance to meet and chat with local volunteers. Daily except Thursday and Friday.
Shangri- La
(04 405 2703)
Dunes Café host an Iftar buffet priced Dhs144 with an international menu following from 8.30pm to 11.30pm for Dha175. Marrakech has a Moroccan Family Iftar for Dhs144. The Lobby Lounge has Arabic sweets and a dessert buffet from 6pm to 11pm for Dhs98.
Sheraton Bur Dubai
(04 397 7444)
The Promenade Restaurant will be serving an Iftar buffet priced Dhs65.
Sheraton Deira
(04 228 1111)
An Iftar buffet will be held at The Terrace restaurant.
Sheraton Dubai Creek
(04 228 1111)
Iftar buffet is served from sundown to 7.30pm for Dhs119. Afterwards the hotel's Al Mashrabiya tent hosts an á la carte menu, shisha and games.
Sheraton Jumeirah
(04 315 3218)
The Ramadan tent, which overlooks the sea, kicks off with dates and juice to break the fast followed by Iftar and Suhoor. The mixture of Arabic and international cuisine will be accompanied by live oud music and shisha.
Taj Palace
(04 223 2222)
The Taj Iftar buffet will be held at Le Rendezvous restaurant, priced Dhs95. Al Khaimah ballroom will be available for private gatherings.
Towers Rotana Hotel
(04 343 8000)
Flavours On Two has a traditional buffet for Dhs99.
Town Centre Jumeirah
(04 344 4161)
An Iftar Buffet will be accompanied by live oud music and henna painting. Participating restaurants include L'Auberge, La Caffette by Carpe Diem, Shish Kebab, and Simply Healthy.
Qanat Al Qasba
(06 556 0777)
Sharjah's Qanat Al Qasba hosts Ramadaniat Al Qasba 2007. Iftar and Al Suhoor meals will be offered along with entertainment, cultural and religious events, children's events and competitions.